Alexandra Bachzetsis | Broad Casting Studies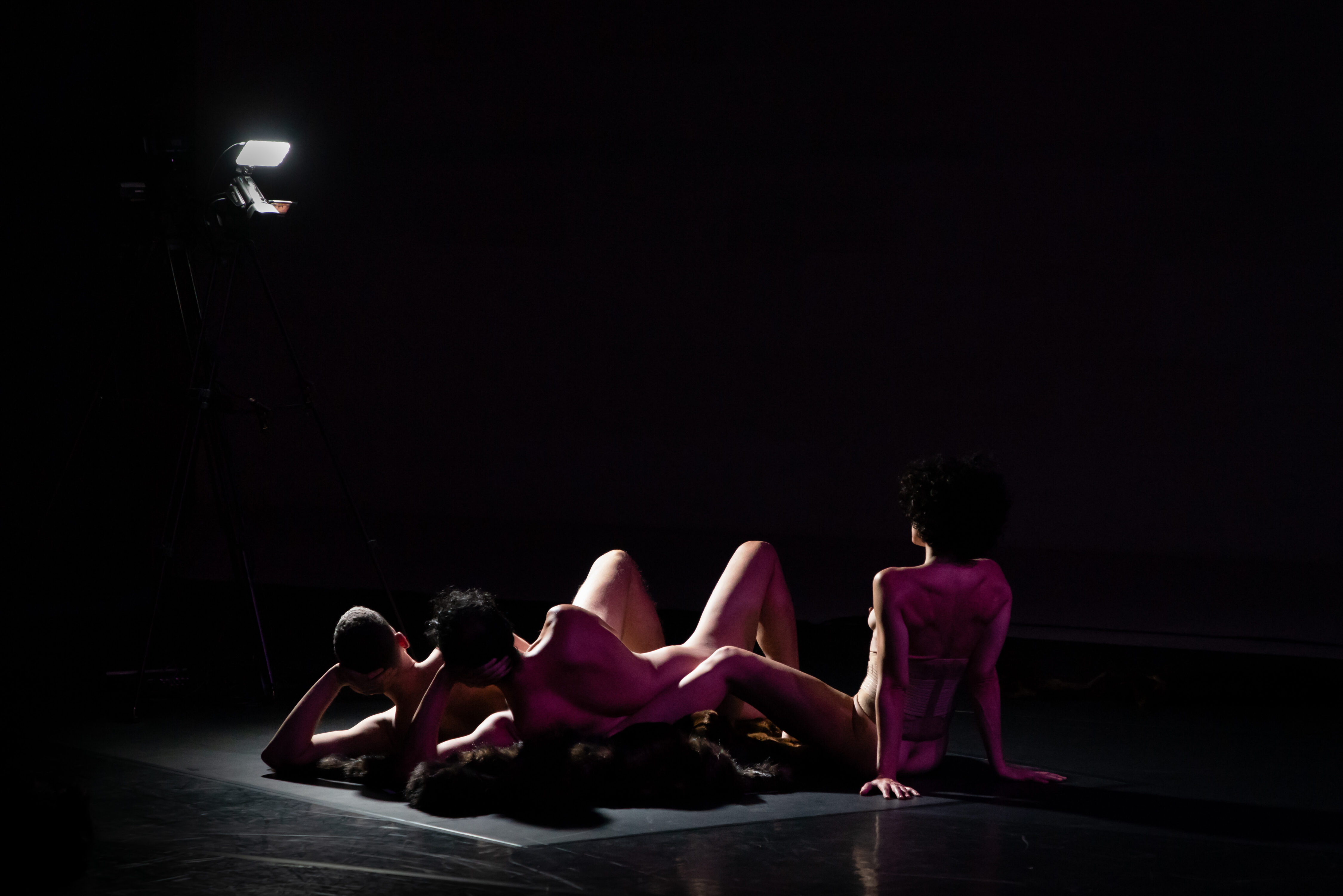 In her latest choreographic work Chasing a Ghost Alexandra Bachzetsis creates an erratic way to share a dimly lit stage with four dancers, two musicians and a series of sculptural props: two grand pianos, two stationary cameras with LED panels, a television on wheels and a discarded faux fur coat. For one hour they role play.
The performance opens with a duet where two female dancers take a series of wayward demonstrative poses, accompanied only by the rhythmical flapping of their unbuttoned blazers and the snapping sound of their outstretched tights. The faux confidence of their brightly coloured shoulder padded jackets draws parallels with the office scenes from 1989 rom-com Working Girl. As the one on the right crouches and looks away, the one on the left  throws her blazer up into the air, looses balance and dramatically falls onto the floor. The blazer lands on her shoulders and face, drawing attention to her twisted hips and legs. I instantly think of Guy Bourdin's polaroids where models with elongated legs in black nylon stockings and high heels are often rendered as headless objects amidst of mysterious and perplexing narratives.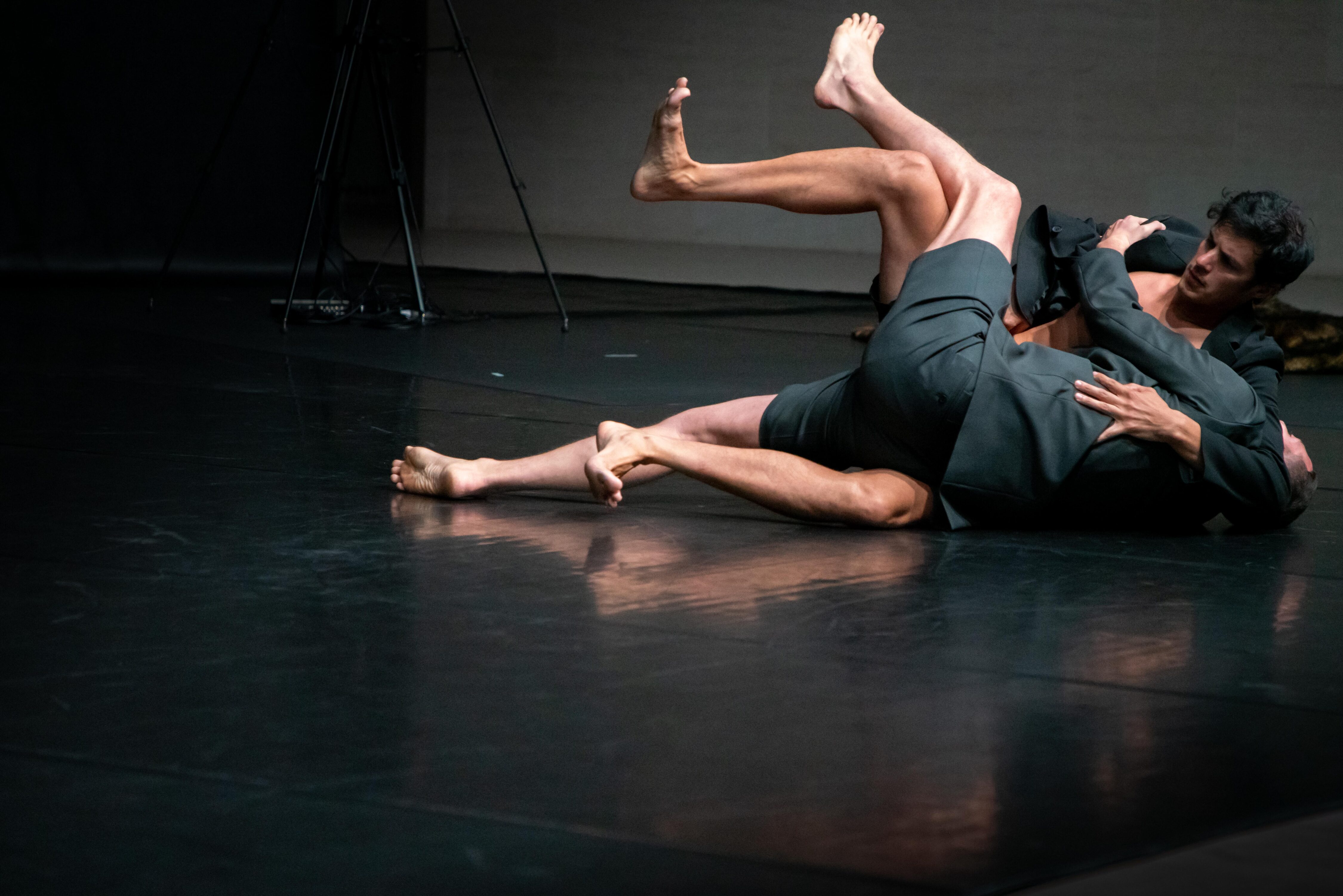 In the second duet six foot tall male dancers, dressed as misplaced pre-prep school boys, engage in various physical conjunctions that translate into a game of "courtship". They exchange interested and seductive glances. They connect and then turn while holding each other in a loving embrace. Another instant trigger for visual memory. A familiar image from Derek Jarman's film The Angelic Conversation (1985) or Mapplethorpe's black and white photograph Two Men Dancing (1984). This queered scene endures as the reverberating sound of music crescendos until the men hop light on their feet, push apart and begin to fist pump the air, revealing throes of ecstasy while maintaining deadpan expressions. A reoccurring theme?
The eight remaining duets continue to summon the endless resources of gestures, attitudes and identities by taking on the complex yet playful role of words, characters and images drawn from art history, music, cinema, fashion and popular culture. Printed words from poetry to catwalk reviews; familiar characters from dramas to rom-coms; images from exhibition walls and Instagram feeds. By assimilating these cultivated and colloquial references into their bodies the performers project new interchangeable and fluid personalities. Like a tight-rope walker Alexandra Bachzetsis balances her act by giving equal weight to primal desires and the superficial modes of being, and without fully yielding to either, she makes us reflect upon the performative and artificial nature of gender and identities.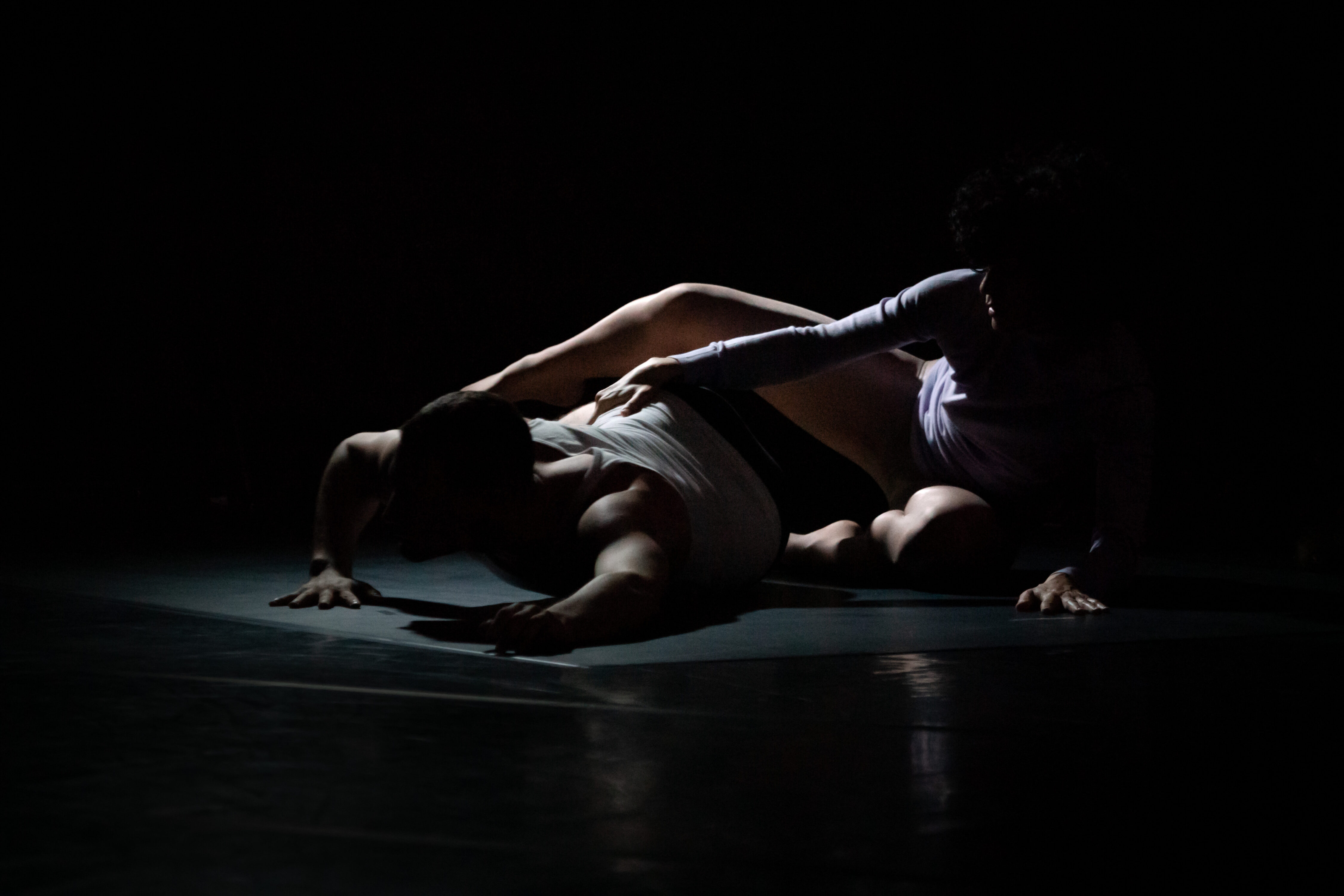 Exploring the fluctuating space between synchronisation and conflict, the performers double each others movements, conjuring up visions of doppelgängers. At time their faces overlap on the screen while they sing lyrics from popular songs. For instance The Knife's 2003 hit Pass This On now cult track and music video in which drag artist Rickard Engfors performs in front of a room full of seemingly uneasy looking cisgender men and women. Here the lack of electro soundtrack yields ever stronger emphasis on the lyrics of the song which are themed by compulsory queer attraction and the necessary transgressive nature of desire.
The intimate interactions of passionate kisses, "inappropriate" touching and fearless nudity are looped into endless repetitions. These stark projections mercilessly punctuate the screen. They are processed, framed and distant, cold and lacking in empathy. They give into solidarity of the current dire pace while erasing any fidelity to the initial performative act, instead they seed and layer confusion and build on the overwhelming feeling of uncanny.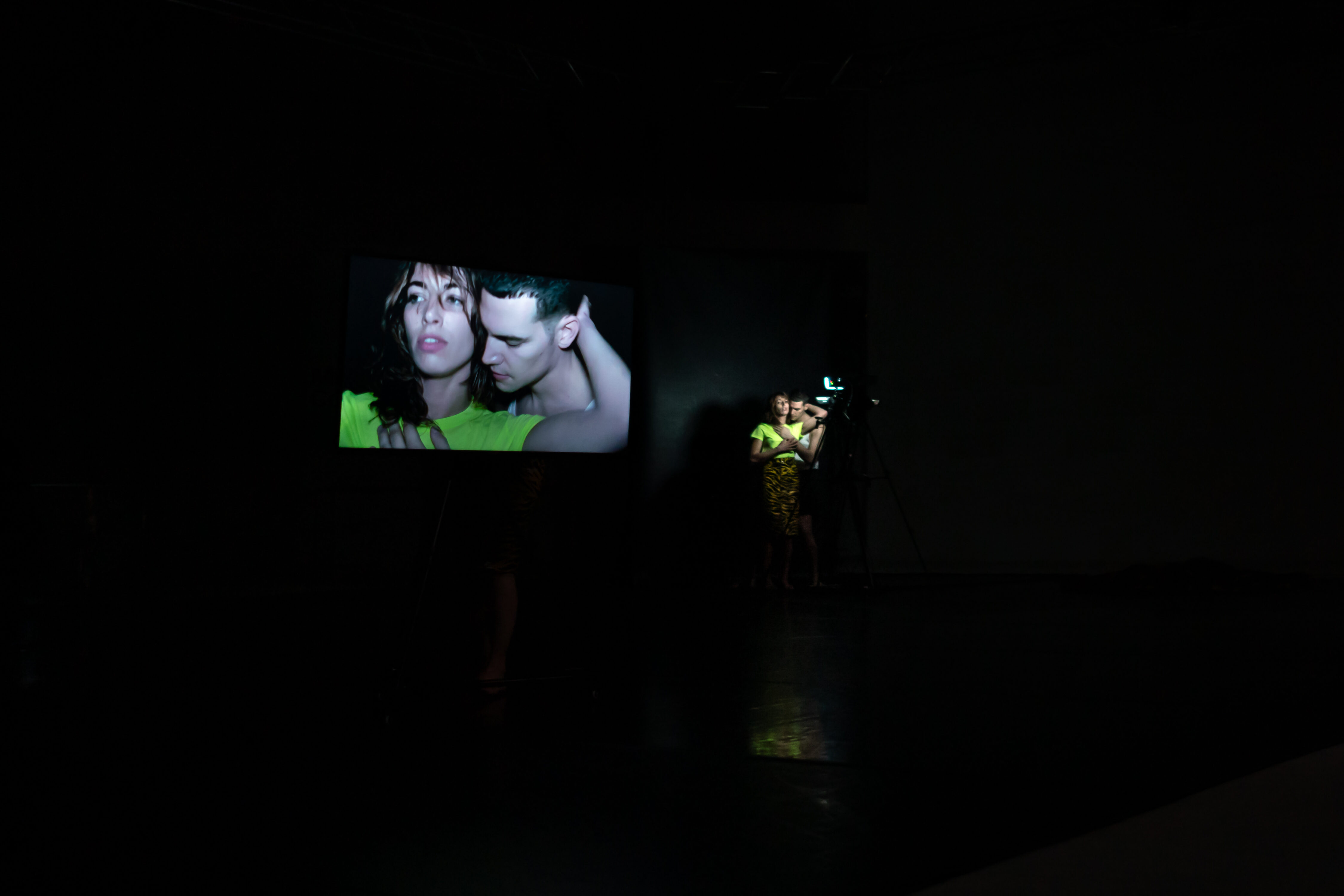 Chasing a Ghost premiered at the Art Institute of Chicago in November 2019. Touring resumed in August 2020. Latest presentation was at Mudam – Musée d'Art Moderne Grand-Duc Jean in Luxembourg where it was curated by Joel Valabrega. Next presentation is on November 12 at LAC – Lugano Arte e Cultura.
by Vincent Crapon
PANORAMA Series, October 2020
Images :
Alexandra Bachzetsis, Chasing a Ghost, curated by Joel Valabrega at Mudam Luxembourg – Musée d'Art Moderne Grand-Duc Jean. Photos: Courtesy of Joseph EMILE/Grand Format Luxembourg