Art Market – Entering The New Decade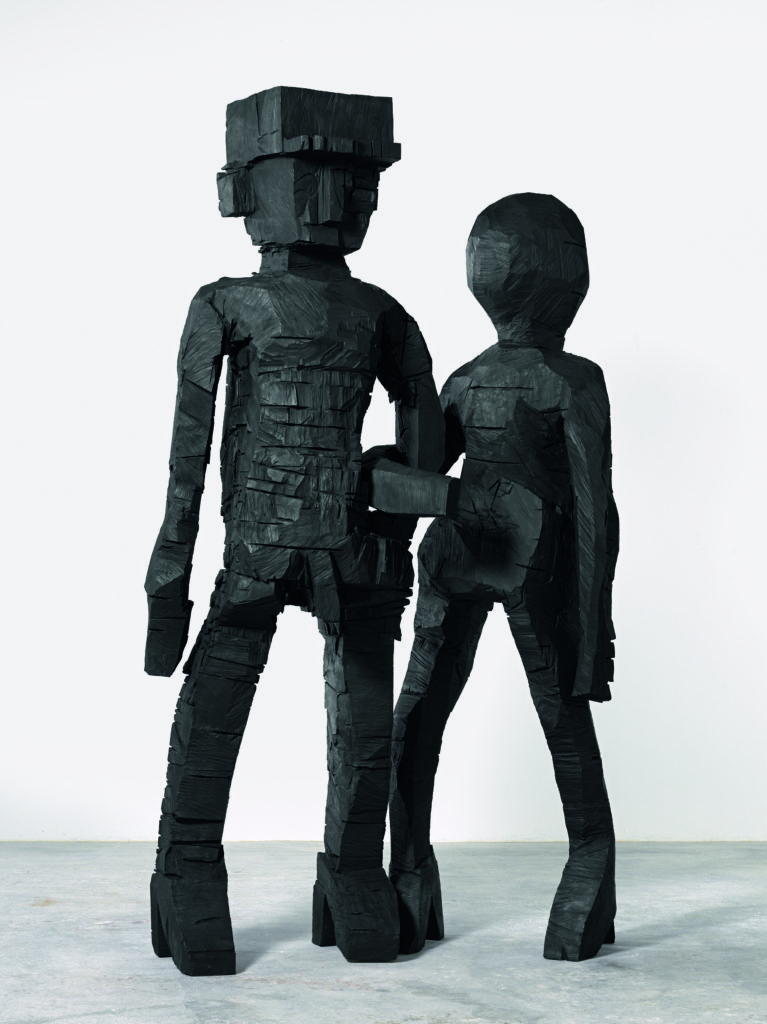 The art market of contemporary artists is defined particularly by art fairs, so by entering the new decade we can refer to the last main art fair – in December 2019 – of Art Basel Miami Beach to make a list of the names who sold for best there.
Art Basel is known for being the leading global platform that connects collectors, galleries and artists. Art Basel's fairs are held in Basel, Hong Kong and Miami Beach and supports galleries in nurturing artists' careers, also through artist-led experiences and with an aim of straighten local art scenes.
During the latest edition of the fair the most debated artwork was surely Maurizio Cattelan's Comedian, a banana duck-taped to the wall that sold – twice – for $ 120,000 and that became so popular it had to be removed prematurely.
Business began in earnest on the VIP preview day and continued through the weekend, providing a snapshot of where individual artists stand in the matrix of the art market today¹.
At Thaddeus Ropac, Georg Baselitz's sculpture Sing Sang Zero of 2011 sold for $ 3,800,000.
The monumental patinated bronze by the German artist represents a standing couple with arms interlinked. The work was presented at the gallery, in Paris Pantin, on the occasion of the show Le côté sombre of 2012. The first reference is a thought elaborated by Baselitz in the 1970s stating: "The last thing I could think of in the way of pleasing or characteristic German sculpture after the Gothic period was the group Die Brücke, including Schmidt-Rottluff, Kirchner and Lehmbruck. When I finally arrived at this idea, I took a piece of wood and started work." Another important field of reference for his sculpture is the fundamental nature of African one, where specific basic types have been developed over a long period. The artist has cast limited editions of his sculptures in bronze, reproducing and burnishing in black the finest details of the sculpted wood – being remarked by J.P. Stonard like "They betray the light absorbing wood from which they were originally carved; memory falls into them, rather than drama out of them."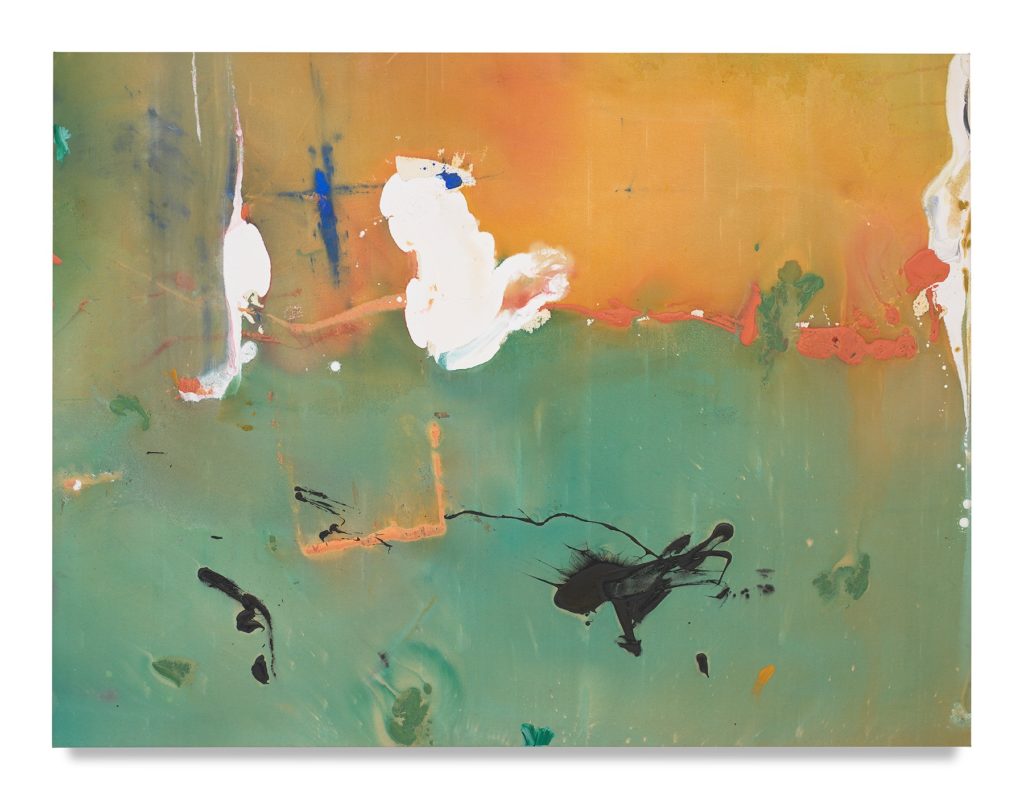 David Hammons highlights twice, with the mixed media work Untitled (Silver Tapestry) of 2008 that sold at Hauser & Wirth for $ 2,800,000 and with African American Flag of 1990 in dyed cotton sold at Mnuchin Gallery for $ 1,650,000. The more-than-actual red, green, and black stars and striped flag echo the ones in Marcus Garvery's black-liberation.
Closely watched but reliably elusive, the American artist had a relevant show at the mega-gallery Houser & Wirth's Los Angeles space last spring – his first in town in 45 years.
Again at Mnuchin Gallery, the painting White Joy of 1981 by Helen Frankenthaler was sold also for $ 1,650,000.
The artist played a crucial role in the transition from postwar American Abstract Expressionism to Color Field painting. She invented the soak-satin technique, expanding the possibilities of abstract painting, whilst referencing to figuration and landscape in very carachteristriyc ways.
Currently Frankenthaler is exhibited at The Metropolitan Museum of Art in New York, within the show Epic Abstraction: Pollock to Herrera, and in London at Tate Modern's In the Studio (Room 8): Helen Frankenthaler.
A Bridget Riley's painting from David Zwirner sold for $ 1,500,000 and the same price was reached by an Agnes Martin's one at Pace.
Bridget Riley's most recent exhibition at London's Hayward gallery – following the critically-acclaimed debut at the Scottish National Gallery in Edinburg earlier in 2019 – is the most comprehensive one of the artist's career to date, with more than seventy years of work that manifestate the interaction of form and color and its influence on human perception. "Long before I ever saw a major painting… I had been fortunate enough to discover what 'looking' can be – sometimes in mere glance one can see more than in the close scrutiny of a thousand details… I discovered that I was pain-ting in order to 'make visible'," she stated in the essay The Pleasures of Sight of 1984.
Characterized by austere lines and grids imposed upon grounds of muted color, Agnes Martin's paintings negotiate with elegance the confines of structure, space, draftsmanship and the metaphysical. Interested in the transcendent potential of painting, Martin was a contemporary of the Abstract Expressionists. Her oeuvre played a critical role also in heralding the advent of Minimalism.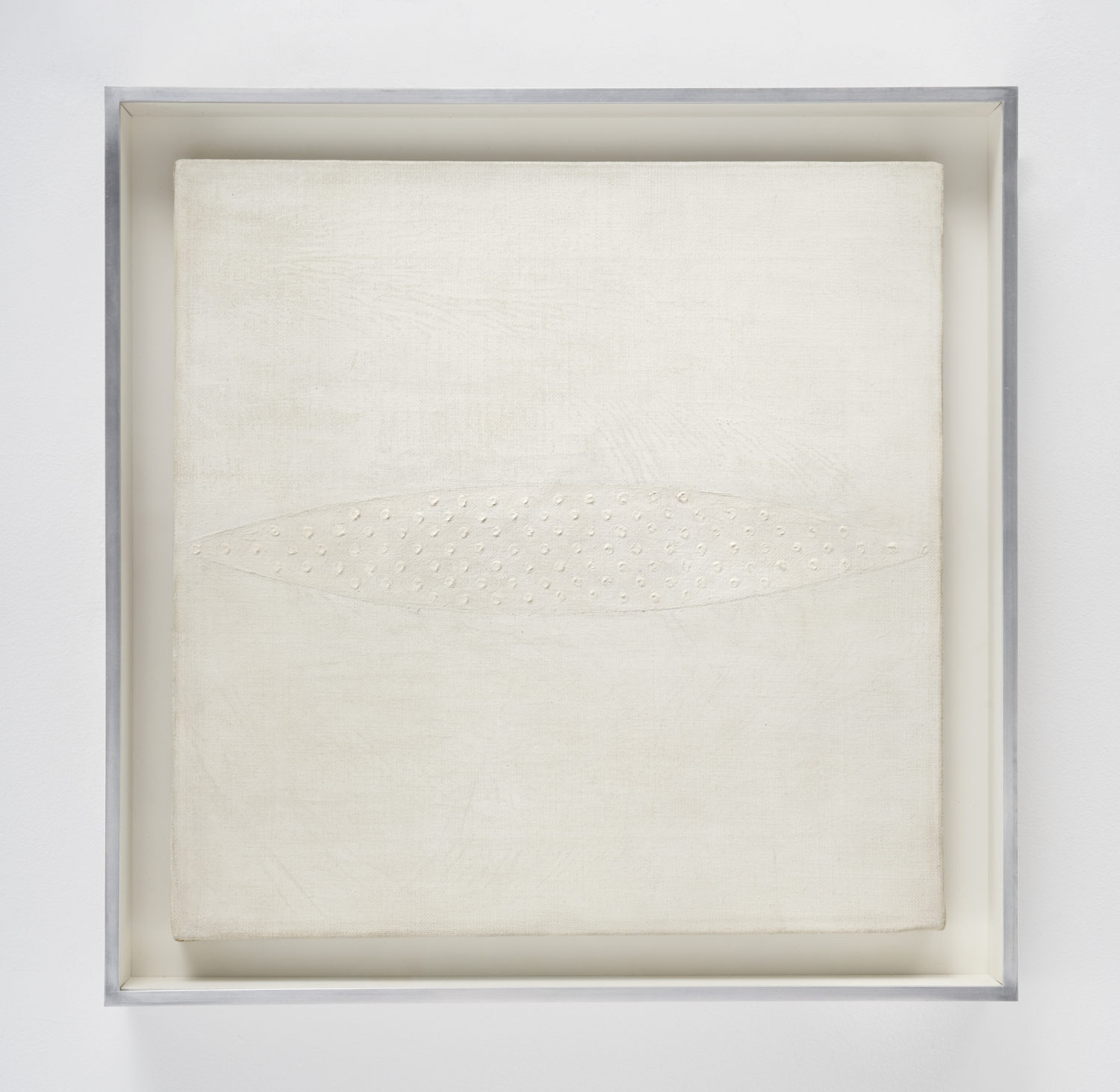 Painting appears like the strongest media on market – and the more actual enthusiasm of collectors go to historicized female artists, following contemporary issues like the Black Lives Matter, and showing an interest that has been proven for a sculpture tasting ancestral.
A news on the art market is also the Art Banking Department of Petricca&Co Capital², FCA authorized, managing Alternative Investment Funds with a base in London, Luxembourg and Hong Kong.
With a team of experts – led by the CEO Stefano Petricca and accompanied by the advice of the lawyer Virna Fontanella, General Counsel – work on articulate transactions from Blue Chips artworks of Modern Masters to Contemporary Art.
The landmark is a market that has seen the value of artworks incredibly rising in the last twenty years, affecting players of global companies from different industrial sectors who bid at auctions and buy in the art market because they interpret the purchase as an absolute investment and – on the other hand – linking their activities to the art world to enhance the status of their own companies. "Investors ask previsions for the art market, for a double appropriation of value: economic and aes-thetic" affirms Mr. Stefano Petricca.
Changes in the market can happen fast, due to institutional push, speculative rush, change in taste, death or divorce of a collector…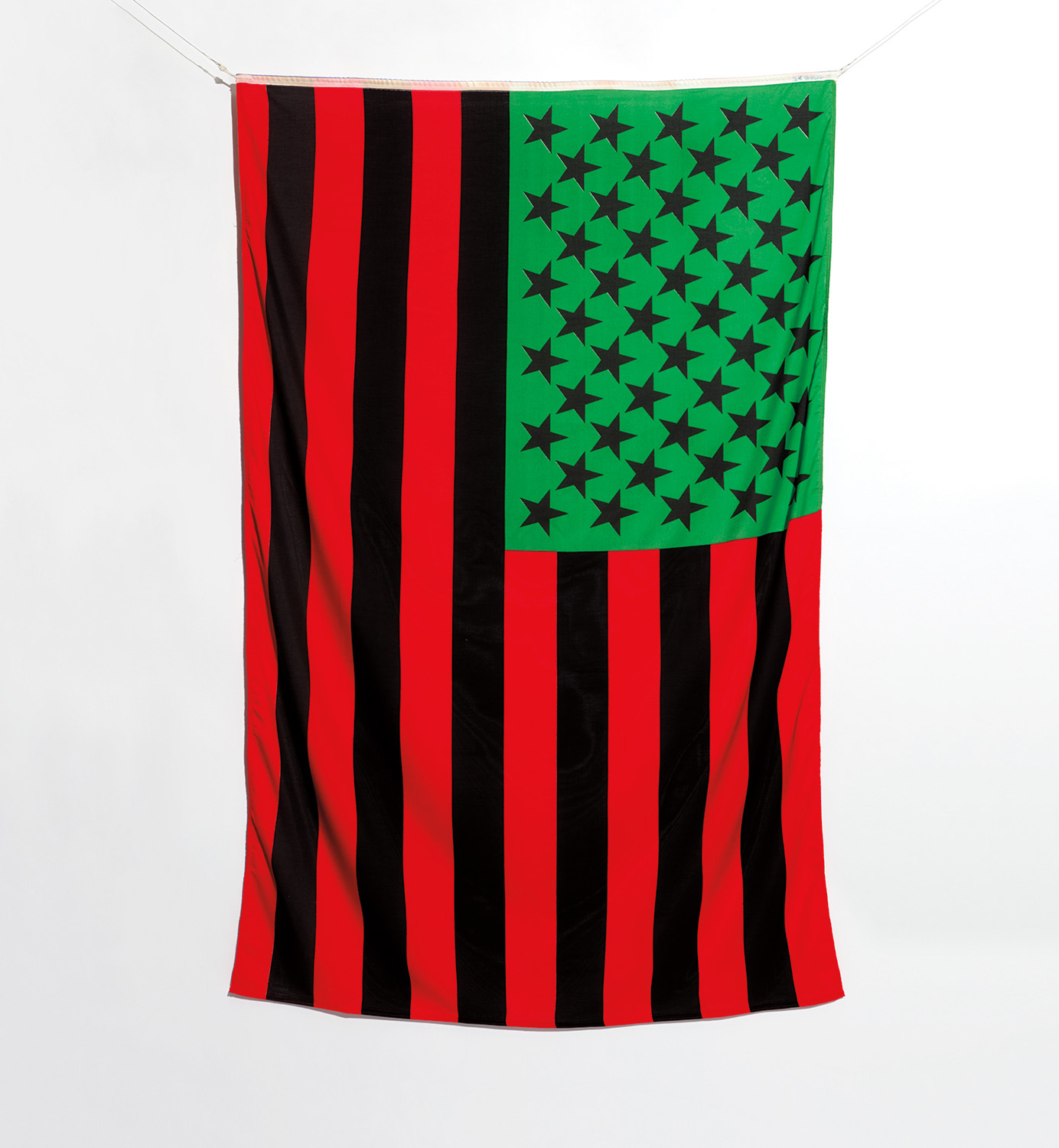 Results³ – from how many individuals searched for their auction records – offer a vivid picture of a changing industry that privileges youth more than ever before and which is increasingly recognizing the value of women and artist of color, as seen also from the outcomes of Art Basel Miami Beach 2019.
Artist born after 1975 took up 23 slots on the 100-artists list, led by market darling Jonas Wood (b. 1977), most searched artist of the decade. Canvas-slasher Lucio Fontana (1899–1968) and abstract color theorist Josef Albers (1888–1976) are the only two not qualifying neither postwar (artists born between 1911 and 1944) nor contemporary (artists born after 1945).
In the 2010s street art sold out, beginning to cashing in on a new generation. KAWS, the New Jersey-born graffiti artist turned art-market sensation, is the second fastest-rising on the list, that contains also names like RETNA, Banksy, Mr. Brainwash, Shepard Fairey, Invader.
The era has seen also a changing marketplace, even if not yet a fundamentally transformed one, in regards of artists who have been making waves and wielding influence outside its confines for decades; with the emblematic presence of Yayoi Kusama as third on the list and Sam Gilliam as fourth.
It is charming that the market of the 2010s loved youth, showed that the pull of street art is real and that it is not entirely a white man's game anymore.
¹Source: Price Check! Here's What Sold — and for How Much — at Art Basel in Miami Beach 2019, Artnet News, December 9, 2019
²The author, Martina Alemani, is Art Contributor at Cactus and Head of Contemporary Art at Petricca&Co Capital
³Source: The Art Market Has Transformed Over the Past Decade. Here Were Its Fastest-Rising Stars, According to the Artnet Price Database, Julia Halperin, December 26, 2019
by Martina Alemani
Edited by Simone Rossi
PANORAMA Series,  January 2020
Images in order of appearance:
Georg Baselitz, Sing Sang Zero, 2011. © Georg Baselitz; Courtesy Galerie Thaddaeus Ropac, London, Paris, Salzburg. Photo: Jochen Littkemann
Helen Frankenthaler, White Joy, 1981. © Helen Frankenthaler Foundation; Courtesy of Mnuchin Gallery, New York
Agnes Martin, Untitled, 1962. © 2019 Estate of Agnes Martin /Artists Rights Society (ARS), New York; Courtesy of Pace Gallery, New York, London, Hong Kong, Seoul, Geneva, Palo Alto
David Hammons, African-American Flag, 1990. ©David Hammons; Courtesy of  Mnuchin Gallery, New York