Disclosure #01 | Alessandro Di Pietro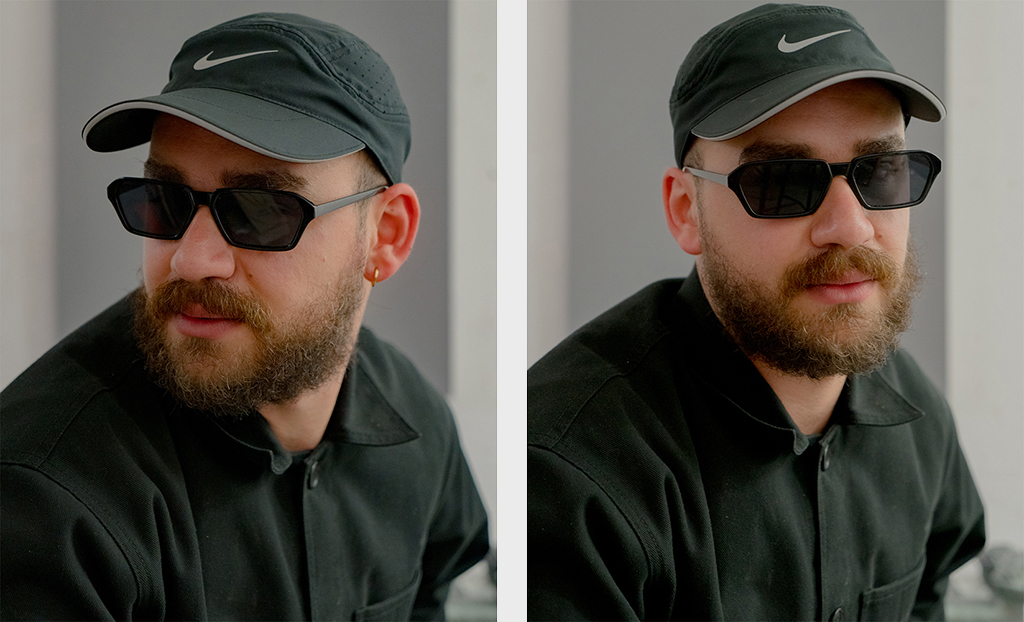 Disclosure is a focus on the artist's studio, considered both as a place of physical and intellectual production and as an archive of languages and experimentations. The project, with photographs by Riccardo Banfi and interviews by Giulia Morucchio, features Italian-based artists who work with heterogeneous media and practices. The first episode is dedicated to Alessandro Di Pietro.
We met Alessandro Di Pietro in his two-room basement studio filled with cold neon lights in a rainy morning in Milan at the end of October. Di Pietro is a visual artist whose practice revolves around the construction of fictional narratives supported by specific linguistic schemes and design rules that contribute in making the subjects and the stories as much plausible as possible.
His narratives, as can be noted from the exhibition series realized between 2016 and 2018 that includes Tomb Writer (solve et coagula), Downgrade Vampire, Towards Orion-Stories from the backseat and Felix, are set in hyper-technological environments whose history is staged in detail. These spaces are inhabited by monstrous characters whose origin and psychological profile are revealed by the symbolic design of the interiors, influencing the very way the viewers perceive and experience them.
The studio's main room was shared by two other artists until recently, while the second one is now used to display some of his previous pieces. And this is where we started our conversation.
Giulia Morucchio: What is the function of a studio for you and what are the essential features a space should have to meet your creative and productive needs?
Alessandro Di Pietro: I spend most of my time in the studio doing mockups, writing, drawing, reading, watching lots of films and archiving old works. On my part it is enough to have a place where I can work freely and as much as I want. The actual production tends to be located outside of it.
Over the years I have changed many workspaces. My first studio was in Como and dates back to the time I was attending the Brera Academy in Milan. Then I moved to home-studios, rented spaces that I have never used, ending up working in my own car. It has been my nomadic studio for a long time, like a sort of "pied-à-terre" on the move. Its noise and temperature allowed me to get out of a state of stillness and to think about solutions in motion, moving forward despite everything.
Now you are interviewing me in the basement where I spent the last three years but soon I will move again, this time to a bigger and brighter space.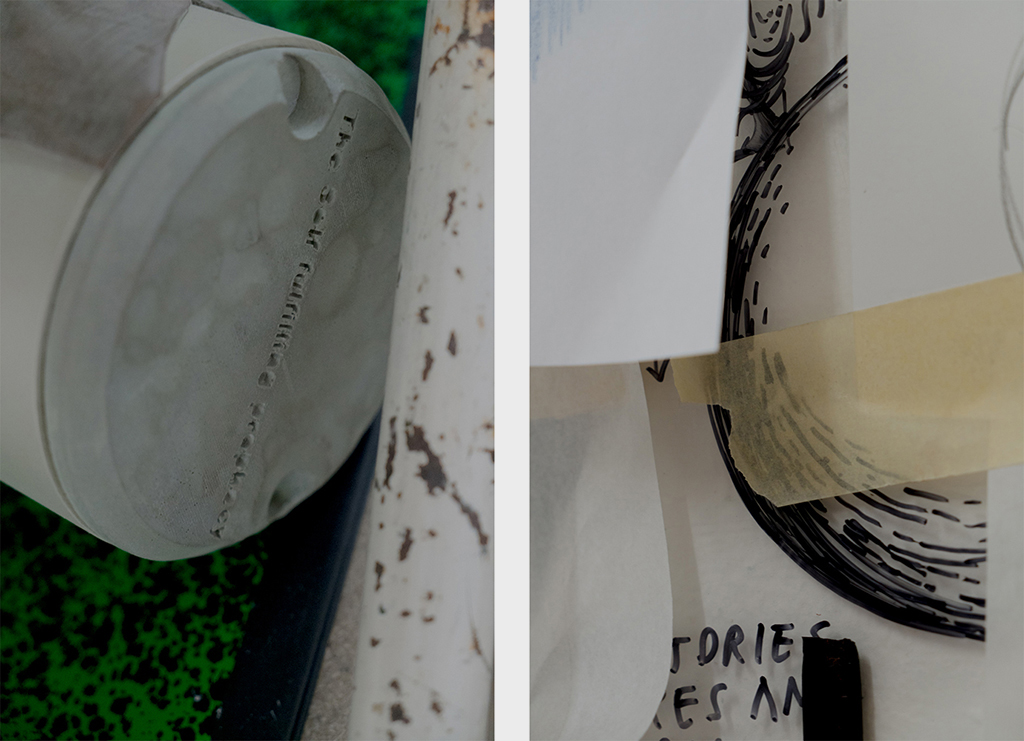 GM: There are some partially wrapped works laying on the table at the entrance. Are they coming back or just going out?
ADP: You are referring to I Vampirelli (The Vampires), a series of drawings I completed in March 2020, when the pandemic started spreading, leading to the first lockdown.
The series had to be presented at Lo Spavento vinse il Giorno, an anachronistic exhibition with a late nineteenth-century vibe and yet strictly related to what we all are experiencing at the moment. It seems almost impossible to make it happen right now, but sooner or later it will be presented.
It all started in the spring of 2018. Davide Giannella, curator at MEGA, a no-profit space in Milan, invited me to work on a new project, focusing on a medium I don't usually engage with or show to the public. So I decided to make a series of drawings.
The subjects are vampires surrounded by a white background, as if we had the privilege of seeing them in daylight for the first time. Their monstrous features – such as the piggy ear, the pointed nose, the dull and glassy eye, the sharp teeth – which have been widely narrated in literature and explored in iconography, recur in every drawing. The heads twist in such a way to keep these features recognizable but, if we twist them a little more, they would become anonymous.
Each of these creatures is the result of dashes, erasures, scratches and it is inspired by photographs I took of necks of artist friends, curators, collectors and architects. They emerge from the flat surface of the paper, thus becoming sculptural and three-dimensional entities.
The vampires are born in this space, under this artificial light and in an undefined time because the sun never reaches these rooms. I have never seen them in a different light condition, so it will be a surprise to finally get them out of here.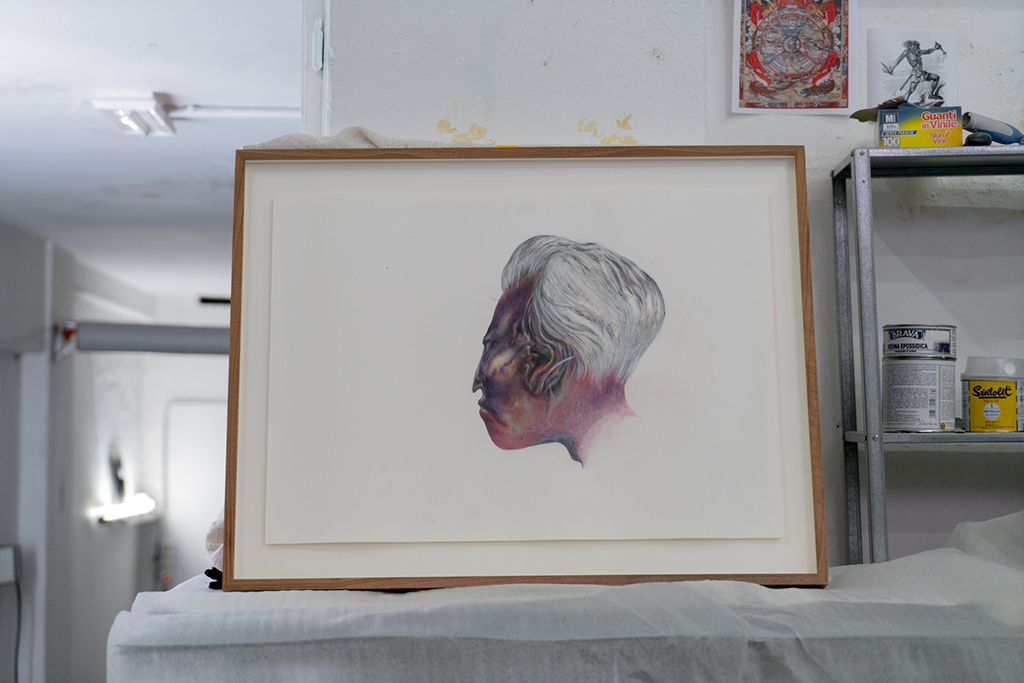 GM: I find very interesting that a certain quality or temperature of the light, that is the one of your studio, has such a strong influence on your work.
ADP: The first thing I determine when I work on a new exhibition is lighting. This particular aspect influences the whole design, as you can see with each of the four chapters of the saga I created between 2016 and 2018. They all have a completely different but extremely specific intensity.
In the first episode − Tomb Writer (solve et coagula) (2016) − a desecrated grave was illuminated by a beam of light coming in through an open window. This is the same lighting condition we would find in a place without electricity. In the attic of Futurdome (Milan) − where I exhibited Downgrade Vampire (2016) − the sun shined in each room with variable intensity depending on the time of the day; moreover, the silver-plated walls created an internal reflection system and the reflective screens – called "vampires" because they suck and steal the light without reflecting it – further changed the appearance of the space. In the exhibition Towards Orion − Stories from the backseat (2017) at La Plage (Paris) the light was self-generated by backlit mirror sculptures.
Lastly, in Felix (2018) − presented at Marselleria (Milan) − the windows were covered with grey polystyrene wings. The space had few neon lights, some of which were replaced with concrete replicas that further reduced the brightness of the entire room, transforming the light into an opaque sculptural object.
I'm interested in the sculptural quality of this element because it allows me to redefine, choosing a certain temperature, the very idea of an exhibition. I am not interested in the exhibition itself but in getting as close as possible to a dimension of reality, which can be mystified or unveiled at a certain point, but which is the result of precise decisions and actions. Considering whether or not to turn the light on or off, whether or not to illuminate something – apparently an extremely banal gesture – actually encapsulates a whole series of political implications about the first immaterial product ever put on the market: electricity.
In this regard, over there you can see Shelley, an uncanny light-colored ceramic object, stylistically inspired by the Art Nouveau eclectic design of naturalistic steam technologies. This sculpture is decorated with a low relief depicting a stream of frogs, the first animal to be bio-electrically resurrected.
This piece was created last year for an exhibition at Centrale Fies, a still active hydroelectric power plant from the early 1900s, now hosting a research center for performing arts and performance. I displayed it partially open, revealing a small part of its metal core: those who approached it would hear a slight flickering, while those who touched it, would take a gentle shock.
In the studio though, the work finally embodies its own appearance. Shelley is now a discharged battery, an exhausted piece of technology that lost its function leaving room for the fetishism of the form and its status of sculpture. A Frankenstein who, after being hit by a galvanic shock, goes back to sleep like an ordinary human being.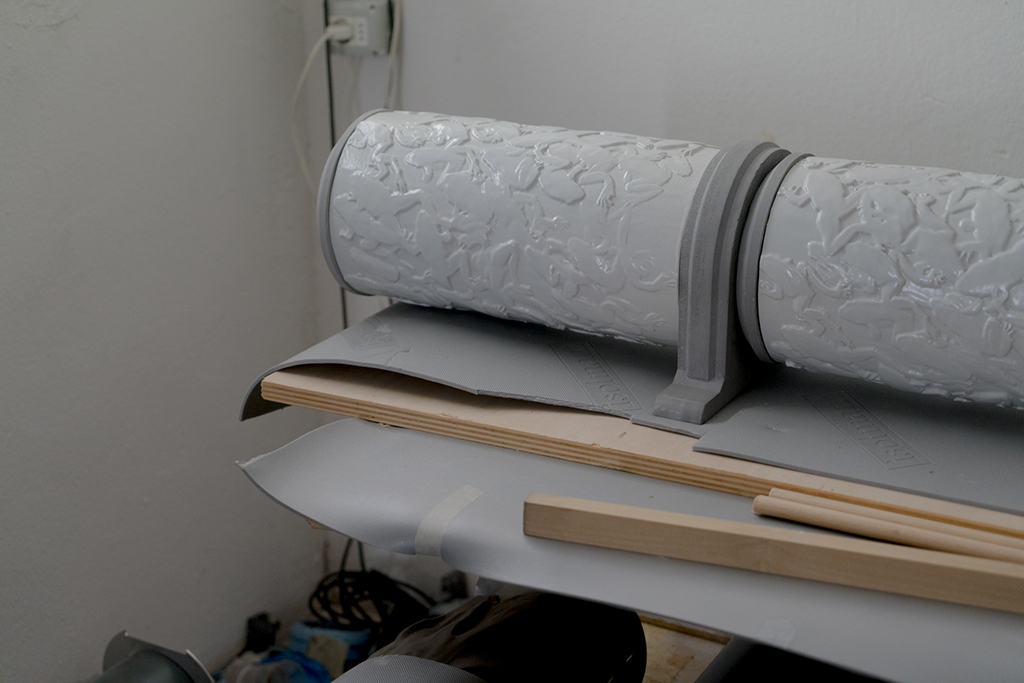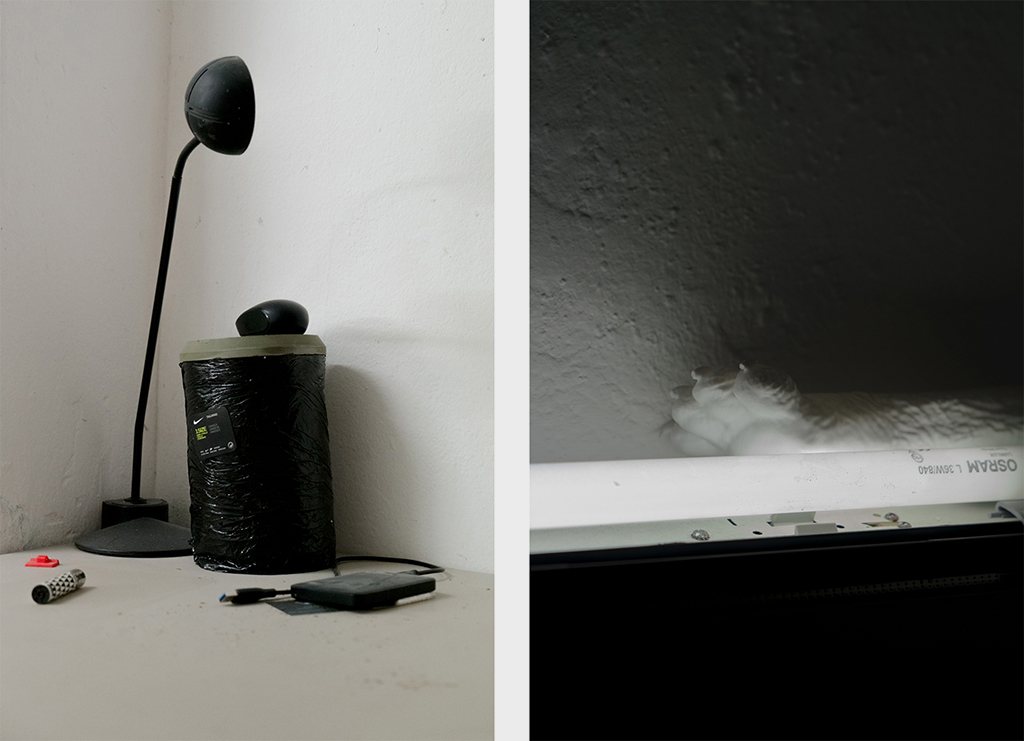 GM: As mentioned before, part of your studio serves as a showroom where to install some of your old works. How do you decide which ones to exhibit?
ADP: The works you see here are pieces I now consider autonomous and that can be decontextualized from their original exhibition settings; others would need a more accurate reconstruction, and this is not the most suitable place to do it.
GM: I see two sculptures hung on the walls, placed one in front of the other. I suppose they belong to the same series. They are long metallic structures whose mirrored surface − similar to the screens of portable devices − is interrupted by red strokes. What can you tell us about them?
ADP: These works are called Orion_Blow and I exhibited them at BLIND DATE #4, at Sonnenstube (Lugano, 2019) and at #80/#90, curated by Pier Paolo Pancotto, at Villa Medici (Rome, 2019). They are a consequence of Towards Orion (2017), the third chapter of the saga. Here the Parisian format becomes a prototype that I use to re-elaborate other projects. Specifically, I am referring to Short stories of Fires and Carbon at Xing (Bologna, 2018), a performance about fire as a cultural and immaterial phenomenon that men have the ability to control.
In Orion_Blow the element of fire returns as a subject matter: the characters portrayed are blowers with swollen cheeks and blazing eyes who are going to extinguish the flames.
These Aelous inspired comics are represented on strips that recall the Adobe Premiere editing clips, working as timeline segments that negotiate with space rather than with time, and activating the observer's eye as happens with the illusion of movement in cinema and animation given by the negative space between one frame and the other. In this context, we reconstruct or begin to understand an open action that does not have a one-way reading direction.
The Orion_Blow series deals with documentation but also with the speculation that one makes within his/her/their own research − just like Bruce Nauman did, re-designing works he already built. To a certain extent, this procedure goes against the typical stages of production and it is not aprioristic.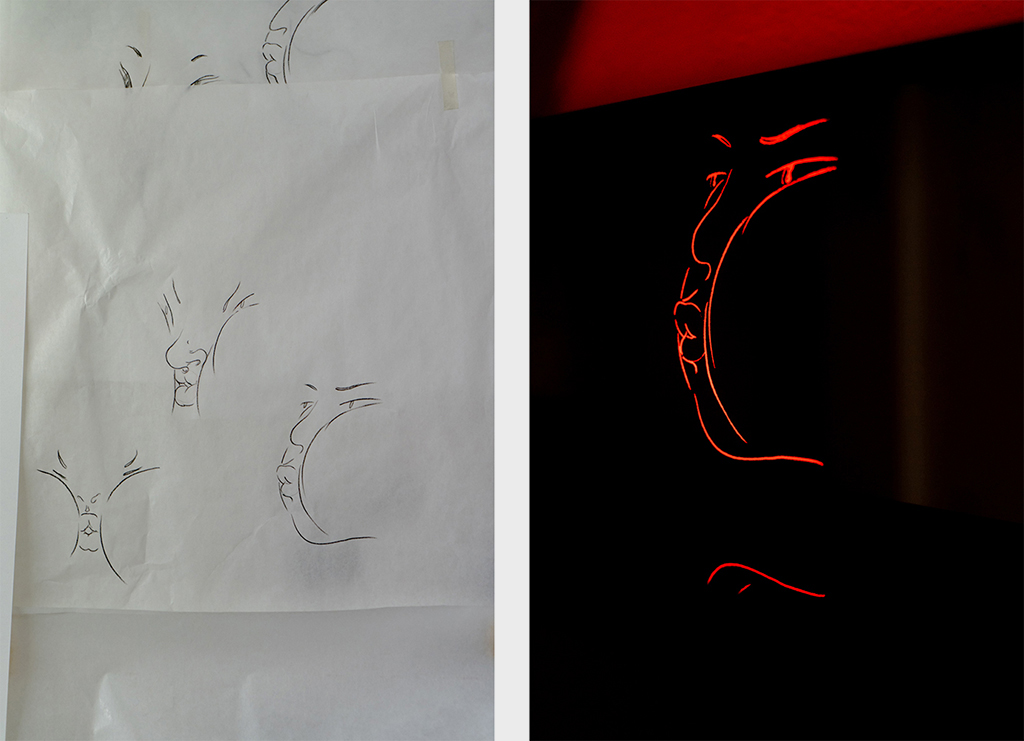 GM: Last year you were granted a fellowship by the Pollock Krasner Foundation with a proposal on the American artist Paul Thek (1933-1988). Where do you currently stand on this research?
ADP: Thek "is" a contemporary artist and a great literary character. Susan Sontag dedicated him two memorable books: Against Interpretation and other essays and AIDS as a Metaphor. Chris Kraus evokes him firsthand in Alien and Anorexia, and his attitude and aesthetic codes influenced the last three generations of artists that, as Mike Kelley, are his most prominent historians. Considering this peculiar historiographical viewpoint, I became passionate not only about his work − I have been a fan for some time now − but also about the idea of studying his persona translating it into a narrative investigation.
So far, I realized a series of three sculptures − Prehistoryboards (2020) − recently exhibited at "Against Sun and Dust", at Villa Imperiale (Pesaro), curated by Cornelia Mattiacci and Alessandra Albani.
These boards evoke the shape of rocks and are produced with the ancient sand-casting technique. I processed the matrix as a woodcut, carving into the surface sentences on Thek by Mike Kelley, Chris Kraus and Susan Sontag. During the plaster cast the quotes began to disintegrate and then crumbled during the filtering and melting phases, becoming illegible as a sort of fossilized linguistic residue. As the research on Thek proceeds, the Prehistoryboards might take on a more architectural role.
Moreover, in the woods around the Villa, a blond hobo dressed as a soldier and resembling Paul Thek's hippie, was intercepted over the course of the exhibition and he was apparently filmed by No Text Azienda.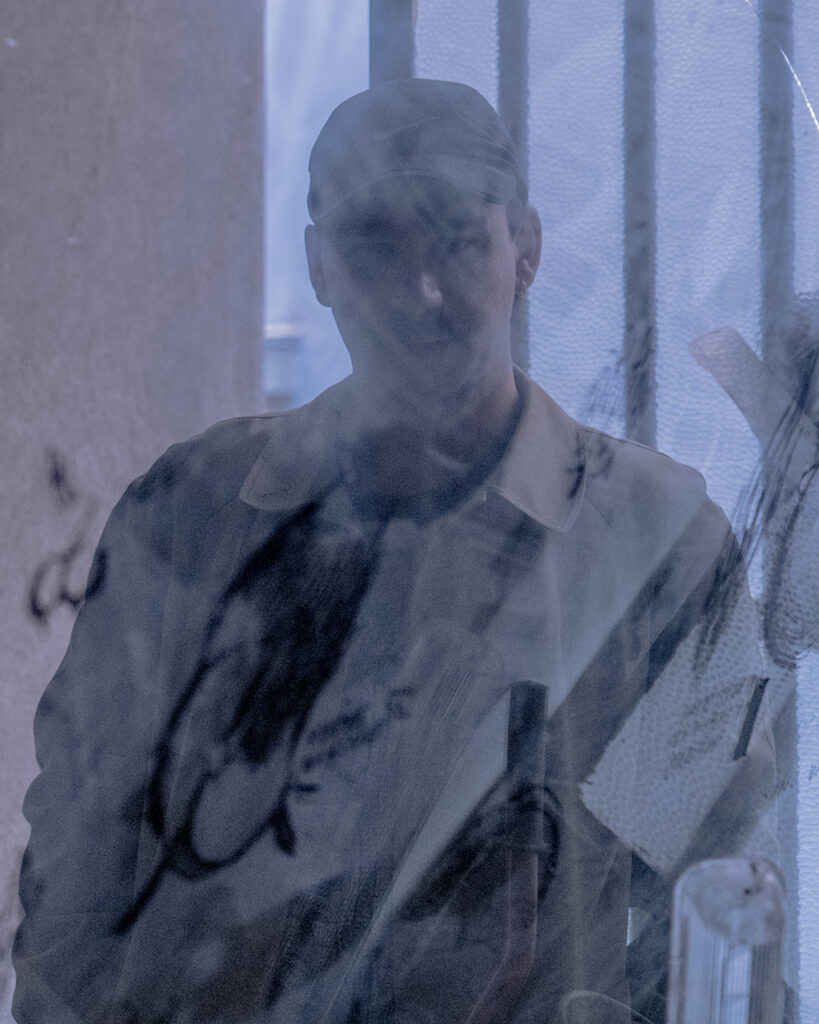 GM: The walls and shelves in the studio are almost empty of books, collected objects, cut ups that can serve as a source of inspiration for new projects.
ADP: I tend to not collect objects and I hardly surround myself with goods because it implies being obsessive and sedentary. Of course I can be obsessive too, but I am always ready to move on. This is why I keep what is strictly necessary: my works, my equipment and some pieces of furniture.
Even in my practice I build only the bare essentials. Seen from the outside it may seem a lot, but from my point of view it's not and it's urgent.
GM: Do you ever feel the need to reorganize your scattered/expanded archive in one studio?
ADP: Rationally I would… but in the end, I like to have my things here and there and think of them in countless spaces. The well organized and easily accessible archive is a monument we should no longer seek.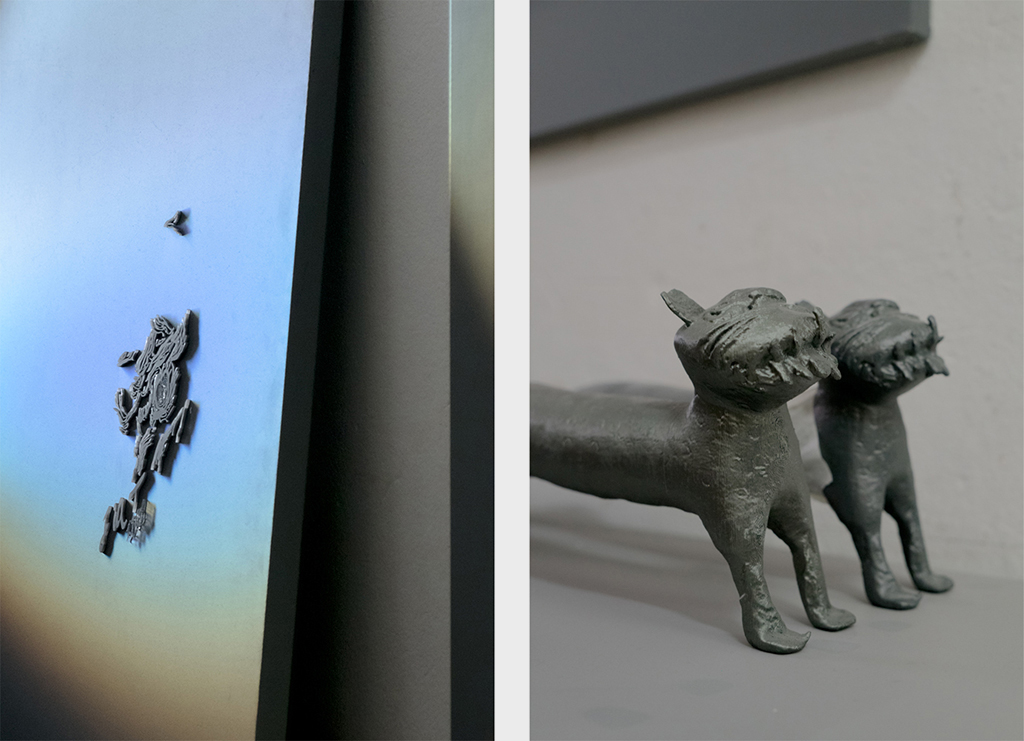 Interview by Giulia Morucchio
Photographs by Riccardo Banfi
PANORAMA Series, December  2020