Finding Redemption Through Spirituality: Kanye West's Sunday Service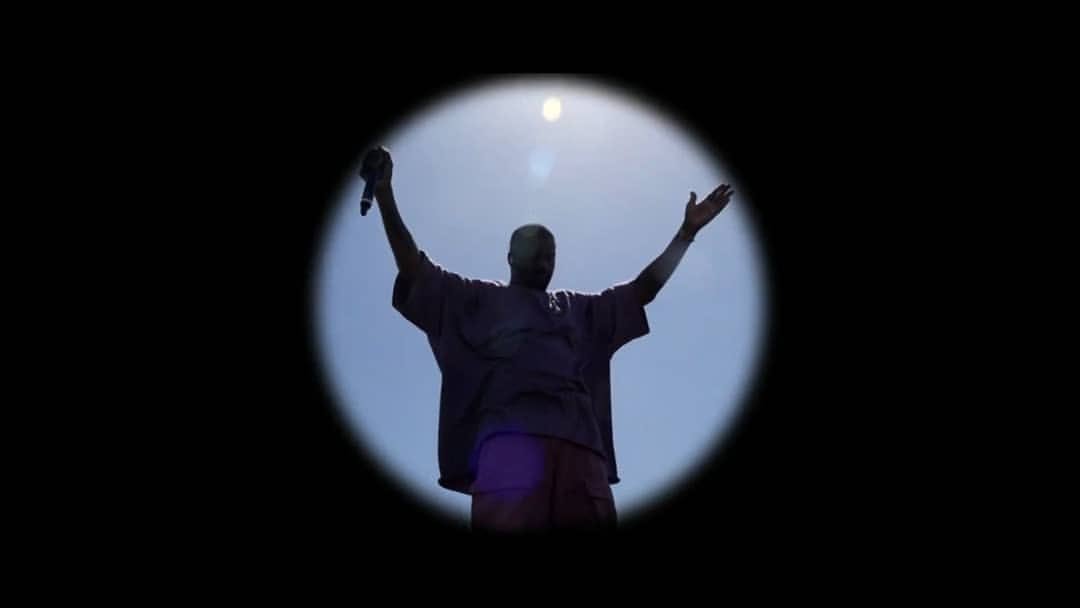 Lately it's been hard out here for a Kanye fan. Precisely, it's been hard at least in the last three years. Take a walk in your neighborhood and look at the people around you, look for the most stressed and disappointed ones: they're either liberals or Kanye West fans. Or maybe both.
How did we get to this point? A quick recap. In the last three years we saw in order:
1/ Concerts-interrupting Kanye
2/ Tour-quitting Kanye
3/ Twitter-ranting Kanye (who blessed us with some screenshot-worthy gems, though)
4/ MAGA-hat-Kanye
5/ Slavery-was-a-choice-Kanye
6/ Average-album-Kanye
Hard times.
Even his cult-like fan base started to give up, accepting the fact that the redundant "missing the old Kanye" cliché  was perhaps no longer even a cliché. The more energy his fans spent trying to defend him, the more he found new ways to become undefendable. At one point the concern was no more for him about harming his public image, but about harming his legacy.
Then, something happened.
"B*itch I'm back out my coma!" [Kanye West – Hold My Liquor, 2013]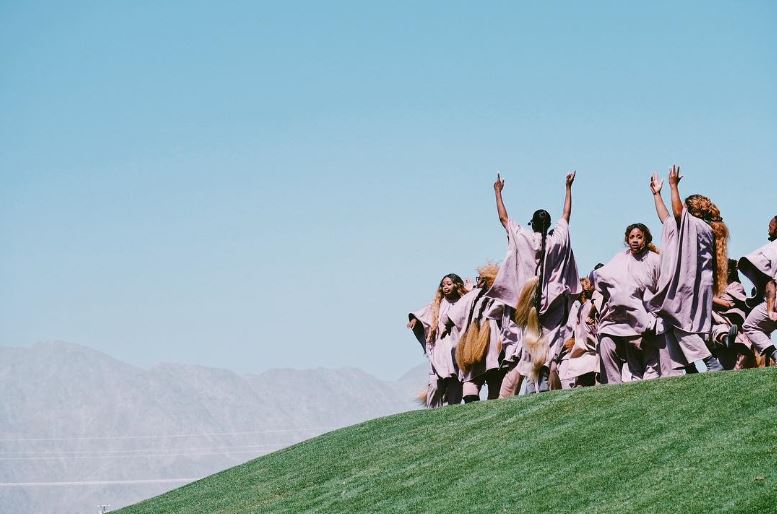 After apologizing for the slavery comments and disappearing from the radars for a while (except for the SNL "I Love It" performance, but let's act like it never happened), in October 2018 we had the news that he was in Uganda finding inspiration to finish his new album – "Yandhi".
We haven't had any  "Yandhi" yet, but still going to Uganda was probably the best thing Kanye could do. Africa awakened a part of him that's always been preponderant, but lately was missing: his spirituality.
"I made «Jesus Walks», I'm never going to hell" [Kanye West & Jay-Z – Otis, 2011]
Let's keep in mind that we're talking about a guy that on his first album ("College Dropout" – 2004) had a song called Jesus Walks – which can be called the best-selling Christian Rap song ever – as one of the biggest singles. Twelve years later he still was heavily spiritual, describing his next release "The Life Of Pablo" on Twitter as a "Gospel Album," although the only real Gospel song was Ultralight Beam, featuring Chance The Rapper. Spirituality always remained prevalent on each of his releases, even though he manifested it in different forms and shapes. You listen to any Kanye album, even the most underwhelming one(s), you hear spirituality. And soul.
"I got to meet Jay-Z and he said «Oh you a real soulful dude»" [Kanye West – Last Call, 2004]
This time though he didn't manifest his newfound soul and spirituality on a new album. He did something different, something new: he did a "Sunday Service".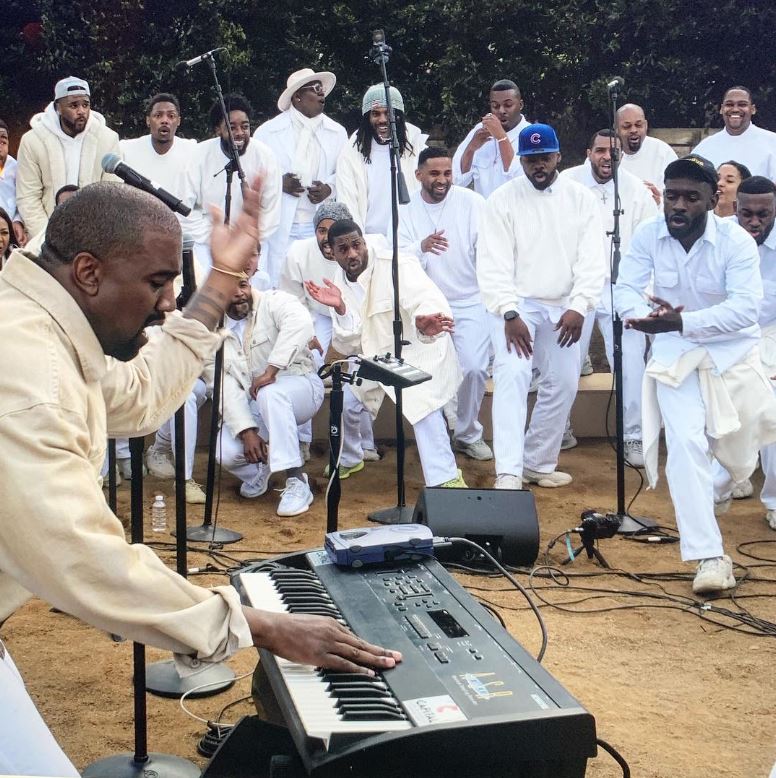 Kanye's Sunday Services started in January as a weekly celebration in the form of a jam session, featuring different guest artists and a choir. Week by week the format evolved with new guests, new songs, new location (Calabasas Hills), new audience, new attention.
What started with no promotion, simply broadcasted by Kim Kardashians' Instagram Stories, after a couple of Sundays already had websites and IG pages dedicated to it. The public was interested and fascinated. Of course because of the concept, but mostly because of how Kanye looked finally focused, healthy, happy, inspired. If you complain about Kanye West not being the old-Kanye anymore, you have to give him credit when he does old-Kanye stuff. And this was vintage-Kanye.
As popularity kept growing, it was clear that it deserved a bigger location and event. That's when Coachella came into play, announcing that on the closing day of the festival – April 21 – there would be "Easter Sunday Service," featuring Kanye West and guests. That's when it reached his peak.
"Welcome to Sunday service" [Pusha T ft. Kanye West & Ghostface Killah – New God Flow, 2012]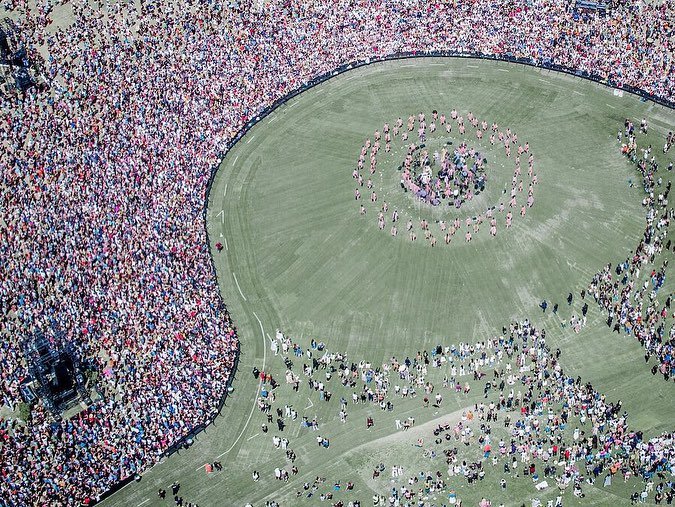 Even if it was livestreamed by Youtube through a fisheye lens that caused massive headaches to half of the connected audience, what immediatly stood out was the location and how the musician and the public where disposed. The experience wasn't just sonic, it was also visual and chromatic. Then the set started, and that's when it was officially safe to say "Welcome back, Kanye".
There was something special about hearing during an Easter celebration a gospel choir rendition of Soul classics like The Gap Band's Outstanding and Stevie Wonder's As.
There was something blissful on hearing a mini-set of Chicago House Music blended in it, with the choir performing Cajmere's Brighter Days or Aly-Us' Follow Me.
There was something powerful in watching DMX preaching and Kanye crying, with Kid Cudi and Chance The Rapper comforting him.
Then, as he performed some of his old spiritually inspired songs like All Falls Down and Jesus Walks, he made us feel once again the soul and struggle in him. And at the end of the day, that's what was really missing.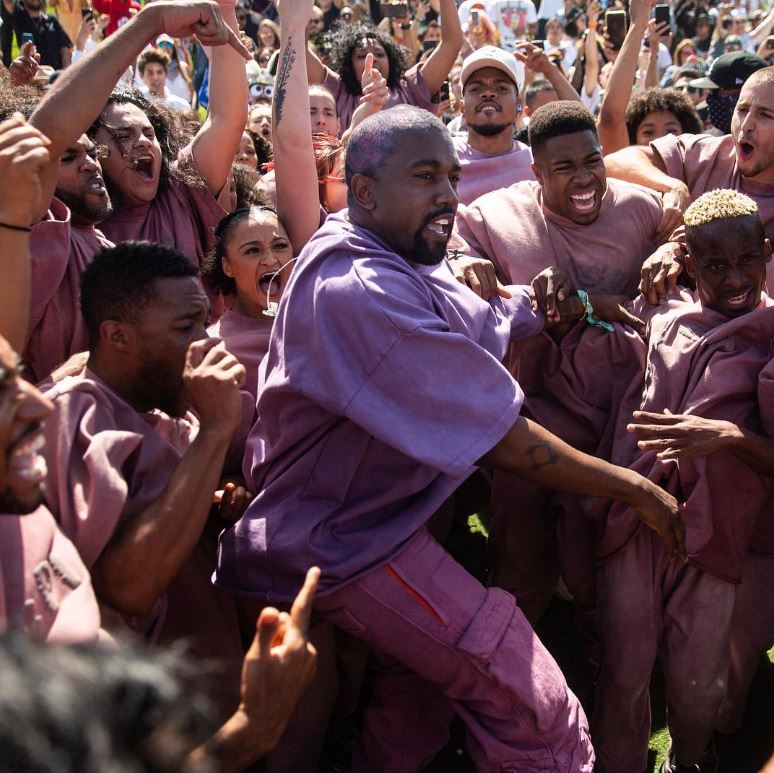 Somebody said that this whole "Sunday Service" thing might be the most effective way for him to find redemption, since Christianity is a religion based on forgiveness.
Maybe that's true. But, surely, giving goosebumps to your audience is an even more effective way.
Enjoy here a selected playlist to experience the Sunday Service again (or for the first time).
by Giovanni Cagni
Edited by Simone Rossi
PANORAMA Series, May 2019