Kenneth Ize, Beneath the Texture of a Contemporary Fashion Geek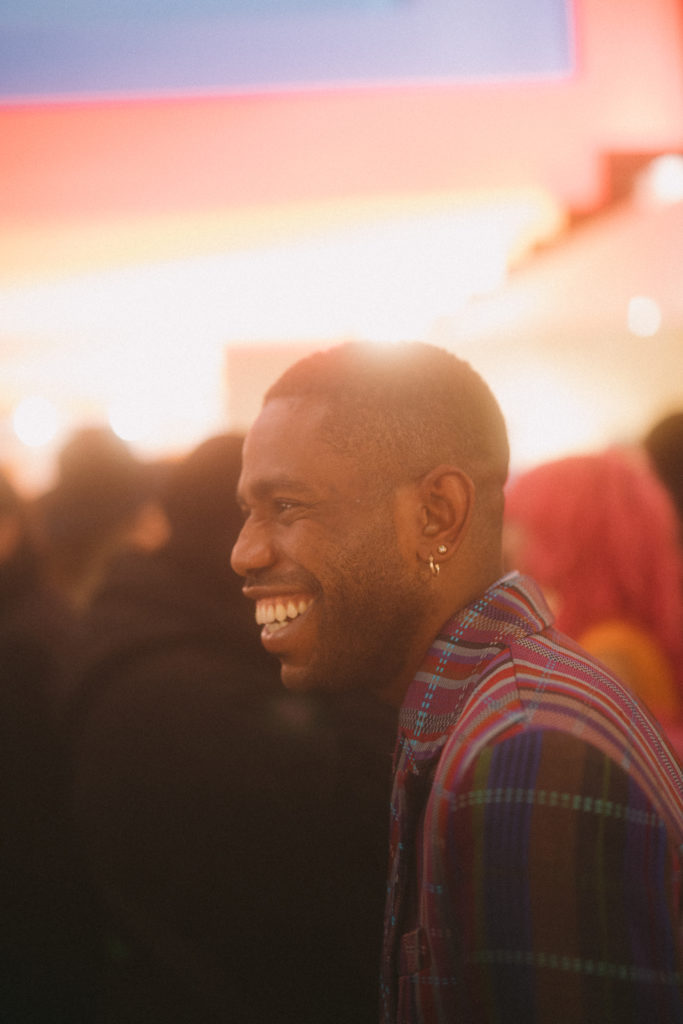 Being a fashion geek is a contemporary privilege for those who follow contemporary fashion culture beneath trends but at the same time – I must confess – I'm not necessarily a big fan of young designers awards. I've always found them too detached from the reality of fashion or too focused on their sponsorship. But the LVMH Award, curated by Delphine Arnault, is something very different, I have to admit. Each season is carefully planned, with an compelling selection of young designers and successful mentorship for winners (plus the actual members of LVHM as a jury – don't forget!). I participated in the launch of the sixth edition during the last Paris Fashion Week and there I met Kenneth Ize.
As many of you, I've been following him since his first steps in the Fashion industry, but this was our first real meeting. It's Friday night and Kenneth Ize is squeezed into his corner of the LVHM Award presentation. With him, Axel Berner-Eyde, Kenneth's former classmate and commercial partner. The place is crowded with fashion stars. With his fringed jacket, the images of other garments hung on the wall, the designer holds his lookbook in his hands. He's chatting around, next to a model that seems to be from another era: a skinny boy in high-waisted trousers, tasseled dancing shoes, a short shirt and a soft, colored patchwork jacket. I'm instinctively drawn to get closer, because the model is wearing a soft scarf around his long neck, and I love scarves. And the closer you get, the more you realize Kenneth must have spent hours perfecting his visual universe, and years designing collections for shiny, sensual men who know exactly how they want to be seen.
From a technical point of view, Kenneth's star is emerging among fashion designers thanks to careful work on his personal universe and the search for skilled craftsmen to produce unique fabrics. He is interested in recovering ancient looms, as their faults and fissures can make memories and premonitions, beneath the texture of a contemporary fashion geek.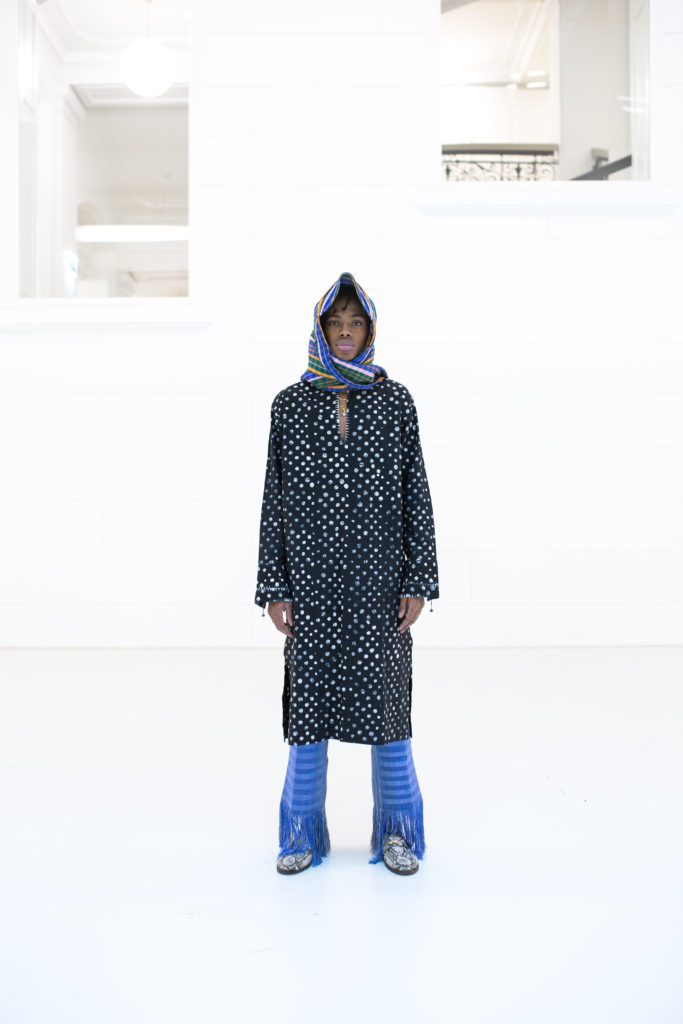 "In Nigerian culture there are daily rituals around dressing up and feeling good beyond special occasions, and this is true regardless of your gender," says Kenneth, already loved also by women like Naomi Campbell and Imaan Hammam. He strongly believes in exploring and cultivating existing cultures, to open up new unexplored territories which can create and inspire future society and traditions.
Not long after, he tells me about his first women's collection which premiered at the Arise Fashion Week event in Lagos in April. My interest for this new project makes me ask for more details; he only partially satisfies my curiosity, by telling me a traditional saying: "If you're not dressed a certain way before you leave the house here, then you're simply not leaving the house."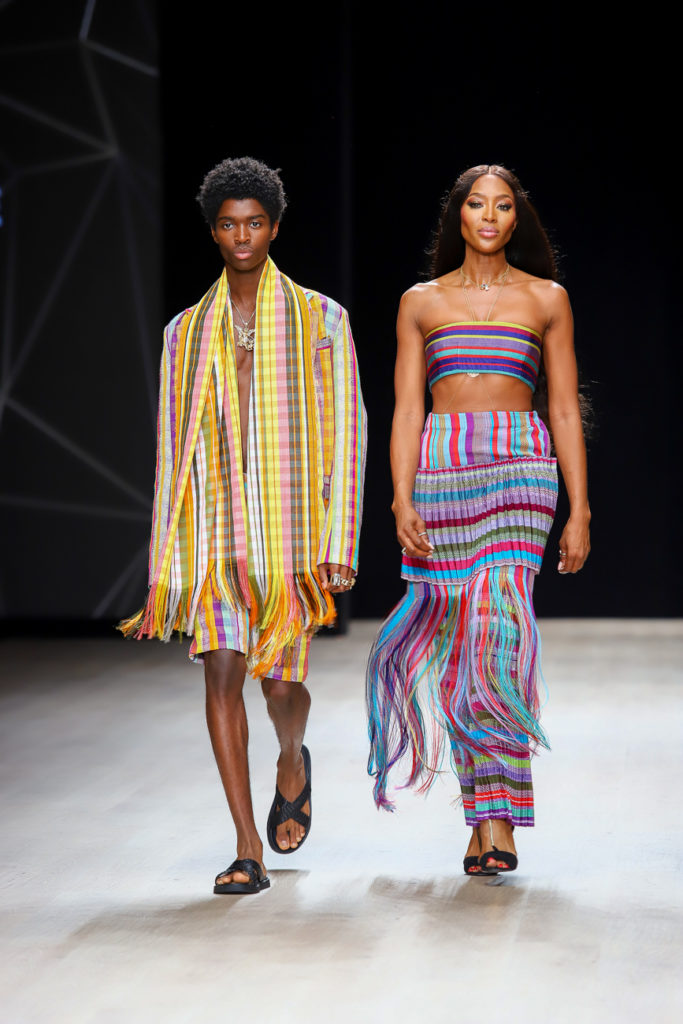 I understand that the concept and research behind this collection must be close to those of menswear, a perfect combination of precious traditional fabrics and contemporary clothes, souvenirs of the whimsical elegance of the bourgeois ceremonies of the past.
If you've ever been to a Nigerian wedding, then you're probably familiar with a mesmerizing handwoven fabric known as aso oke. The term literally means "top cloth," and traditionally it represented a status symbol, as it was saved for the most special occasions. "I have vivid childhood memories of my mother wearing her aso oke as a head wrap, or what we call a gele, to one of her best friend's parties about 18 years ago. It was a beautiful black, gray, and orange silk," said Kenneth. "I have that image in my mind to this day."
While he keeps on remeniscing about those images, which have been a part of his visual identity for years, Kenneth's collection for the LVMH Prize comes to mind: fringed colored trousers, aprons, pois and long-sleeved jackets, perfectly refined. It seems to me he clearly wants to go beyond this search for perfection, giving us a new and much freer interpretation of masculinity and its new codes. Ize's collection emphasizes our fractured perception of African tradition: fashion collides with our present, and future speculations are haunted by a distant past. As seen in many culture awards formats, nowadays a consistent number of designers adopt traditional techniques and a lyrical reportage of their own past in a sentimental way to project onto their fashion collections. Kenneth's tone may be defined as more confessional: it is marked by a mix of optimism and unease, speaking a new language of menswear tradition.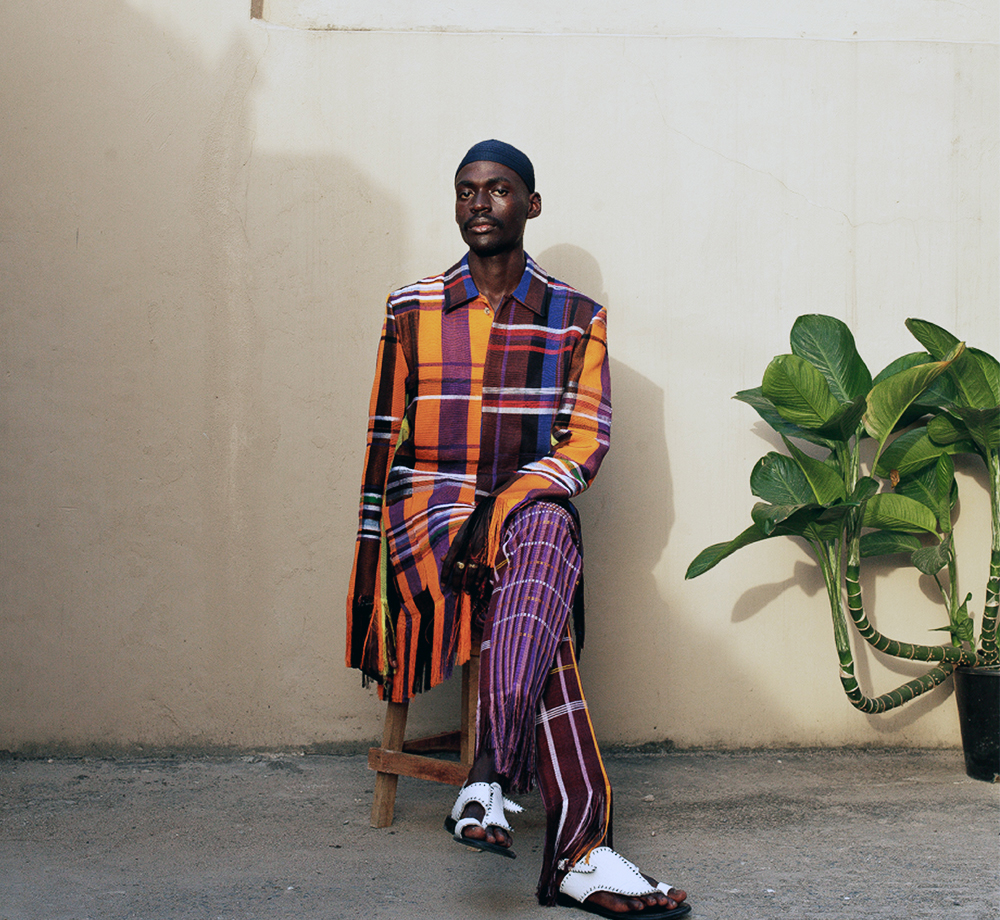 At 28, Kenneth Ize's career has already brought him from Wien's art school to the most glamorous concept stores in the world. Undoubtedly, he still has a long way to the top, even though the fashion world is going through a moment of great fascination for the African market (let's not discuss cultural appropriation here).
I believe his talent and expertise do not only lie in the decision to base his entire production on ancient and artisanal looms, and I also think that we're not encountering yet another elusive, detached and aggressive fashion subculture here. Rather, I feel a sense of bold and proud appearance, the desire to tell a personal story, to expand, to involve others: we don't need a group to feel like we belong to something anymore, but it's good to freely hear – and wear – a story we still don't know.
by Daniele Bellonio
Translated by Cecilia Siccardi
Edited by Simone Rossi
PANORAMA Series, June 2019
Images in order of appearance:
LVMH Cocktail portrait  ©François Goize, ©Virgile Guinard and ©LVMH Prize
Kenneth Ize FW 19, Photo Miguel Vera Casso
Kenneth Ize Lagos's Arise Fashion Week
Kenneth Ize SS 19