Monstrum Studio. Silhouettes of Eternity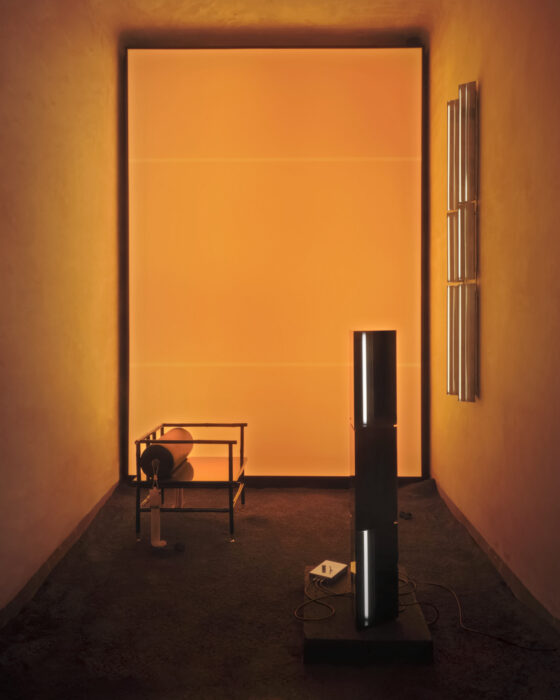 On the occasion of its second participation at the Milan Design Week, MONSTRUM STUDIO staged at Alcova 2023 a project as fascinating as pre-apocalyptic: Solar Flare Sunset. About this, monstra and the future that this first collection of objects envisions, I talk with Riccardo Villa Fabbiati, architect and creative director of the Milan- and Paris-based design studio.
Simone Rossi (SR): The project you brought to the Milan Design Week (MDW) is introduced by a compelling title: evocative and imaginative, sublime and catastrophic, it fuels curiosity and arouses expectation. What is it all about?
Riccardo Villa Fabbiati (RVF): It is about an eternal sunset. Taking a cue from solar flares, sudden eruptive phenomena of light and radiation, I decided to interpret their significant impact on Earth's upper atmosphere and space environment as an eternal sunset, filling the Alcova room with orange light and radiation.
The title Solar Flare Sunset is meant to evoke a potential earthly scenario dramatized in a powerful oneiric vision.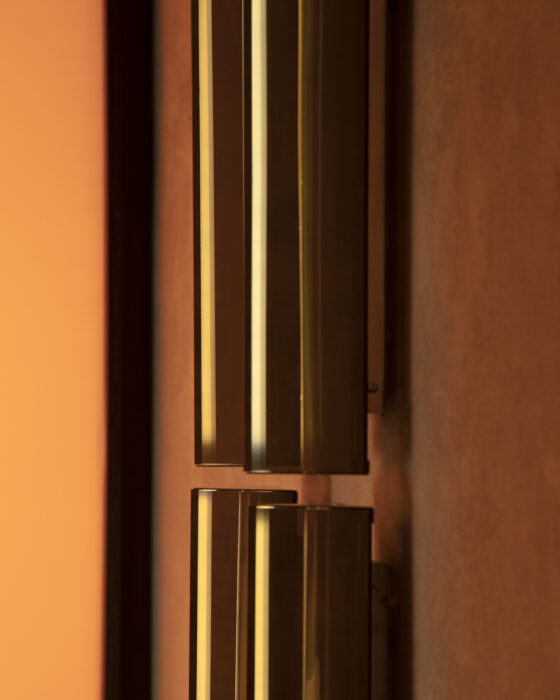 SR: Throne chairs, totems, mirrored wall sconces, ceiling lamps, and pin trays. The atmosphere sounds dense and golden. What kind of eroticism acts in this hanging space?
RVF: More than a specific intention to relate my project to any erotic act or explicit image, the room is imbued with a feeling of peaceful stand-by and constant potential tension, that perfectly translates my idea of sensuality. The objects inside are waiting to be discovered, unveiling the erotic act through their use, and their reflections.
In my work I favor the use of minimalistic silhouettes and sharp edges, mixed with the fluidity of golden chains and the reflection of black, gold or silver.
SR: The press release reads: "these objects bear the signs of the past and the future." What imagery are you drawing on? And what functions do the objects have in this projection?
RVF: The space and the objects in it are conscious elements of everything that has been before; their representation is dense with references, allusions and symbols, reinterpreted in a vision that spans time and space.
MONSTRUM STUDIO is presenting an experience of immersion in a possible future: emerging in the troubled landscape of a solar flare, individual objects evoke a future existence of fabulous discomfort.
I always try to create magical objects that go beyond their usual function, becoming symbols traveling across time. I do feel very close to my work the contemporary scientific and philosophical debate about the realness of linear time and its representation.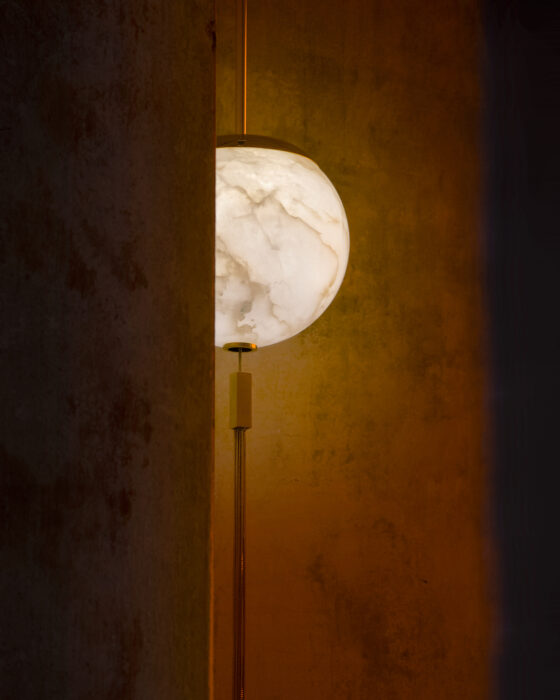 SR: Tell me more about this latter point of connection.
RVF: We all experience time; we are used to thinking of it as uniform, universal and linear, steadily moving from past to future, measured by clocks. Contemporary science is tearing down these assumptions one by one, revealing a strange universe where, at the most fundamental level, time disappears.
Ideas from philosophy, science and literature, scientific researches and experiments suggest that our perception of the flow of time depends only on our perspective, better understood from the structure of our brain and emotions than from the physical universe.
I like to think that my pieces don't and won't identify or belong to a specific point on the "time-line," to a specific style or era, but that they are "time-less."
SR: To each piece you gave a name: they don't seem random, but bear symbols. What is behind them?
RVF: The names are part of the process of the collection and the core of MONSTRUM STUDIO. Monstrum is a Latin word for a fearful yet seductive being, endowed with characteristics alien to the natural order. Enchanting, sleek, even objects possess the power to amaze. LILITH, SPETTRO, HYA (short for HYDRA), LUCIFUGE and YONI, they all represent a Monster of Divinity that evokes a feature of the object itself.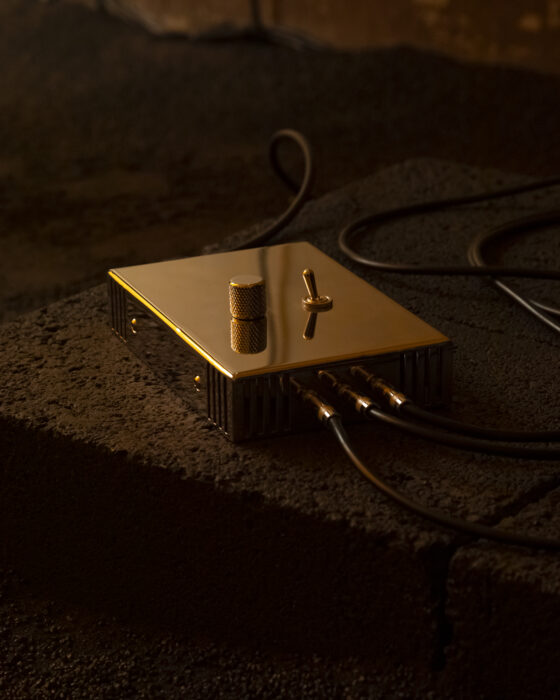 SR: What did it represent for a young studio like MONSTRUM to be part of such an event as MDW?
RVF: Alcova was a great opportunity as the platform is devoted to making connections between the established design community and emerging projects.
I feel glad to have the opportunity to be back in Milan on such an influential platform, with the chance to show my personal and professional roots under a new light. 
SR: Did this year's location𑁋the former Porta Vittoria abattoir on Via Molise𑁋influence your choice of theme and scenario?
RVF: I immediately felt in love with the space and the atmosphere, since it inspired me as ancient vestiges of a future time.
I am really sensitive to the vibes of space, light, and sound, and I felt the old abattoir, in particular the room I chose, had the perfect alchemy of them, even though I decided to reinterpret it almost totally with an immersive experience.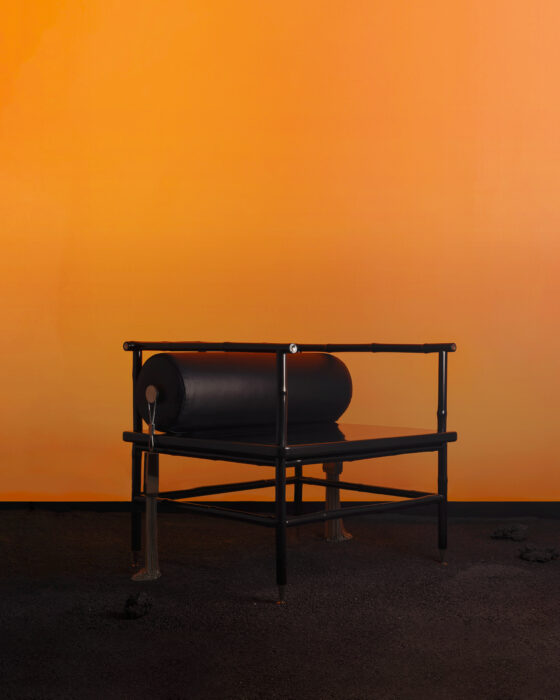 SR: MONSTRUM is articulated between Milan and Paris. How do these two cities influence the way you design? Does one nurture the other?
RVF: Milan for me is still the capital where a specific type of design is conceived and developed. It embodies the Italian tradition and the perfect mix of artisanal and industrial production, new ideas and the history of one of the most renowned and specific designs worldwide.
Paris, on the other hand, is the capital of luxury all across different forms of art. A compelling stage for the highest level of design.
I see MONSTRUM STUDIO as the result of the merging of these two souls, technically and emotionally.
SR: This journey into the depths of the monstrum finally takes us to its origins. After numerous high-level professional experiences as a designer in studios such as Dimorestudio, Bureau Betak and India Mahdavi, you decided to strike out on your own. Can't think of a better person to ask: Is it therefore worth facing our own monstra today?
RVF: At a certain point, personally, I felt I had no choice, it had become a necessity to express myself on my own. Today I am aware that I have been, and still am, searching to design a project in which my vision could be the spark to something new, shared now by and with other people, even if I am aware it could not be for everyone. Each one of my objects and projects is a symbol and an extension of this research.
I believe it is not about facing your monstra, but rather accepting them, collecting them and showing them to others. "They'll either want to kill you, kiss you, or be you" (Suzanne Collins, Mockingjay).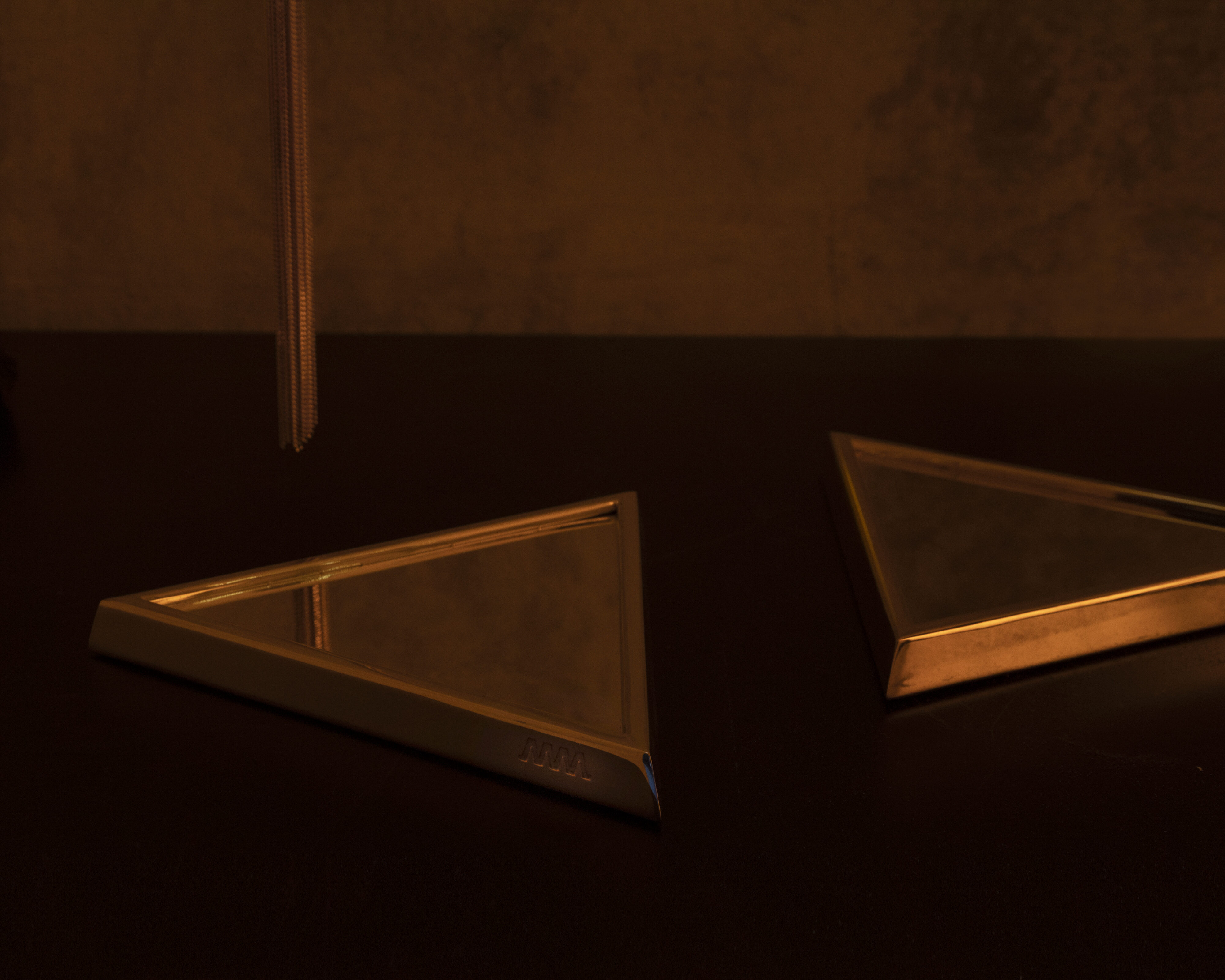 by Simone Rossi PANORAMA Series, April 2023
All Images are installation views of Solar Flare Sunset at Alcova, Milan, 2023. Courtesy of MONSTRUM STUDIO, Milan/Paris. Photo: Benjamin Baccarani.